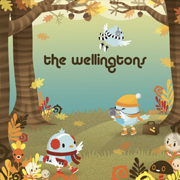 ARTIST: The Wellingtons
TITLE: Heading North For The Winter
DATE: 2008/07/09
FORMAT: CD
PRICE: 2,100yen

THE WELLINGTONS " Heading North For The Winter"
TTR-201CD \2,100

Weezer もFountains Of Wayne好きも全員よっといで〜♪あのウェリントンズの最高傑作が完成!このキャッチーさと切なさは誰にも譲れない!いま世界で一番パワーポップしてて、シンセ&ピアノもばりばり大復活、そこに相変わらずの男女混声ハーモニーって・・もう他に何もいらないよ!THE MUFFSのキムら豪華ゲストも参!パフィーか木村カエラに彼らが曲提供したらたぶん、最高にヤバイ曲かくかも・・・・ってな妄想あり?オファー待ってます!日本先行発売&メンバーKoji君によるセルフライナーノーツ


Track Lisiting:
1. Song For Kim
2. Come Undone
3. I Get My Heart Broken Everyday
4. Freak Out
5. Popped Ballon
6. Natalie
7. For Friends In A Far Away Places
8. Waiting For My Time To Come
9. I Wanna Go Back
10. On & Off





オーストラリアにはThe Baybeatsがそうだったようにパワーポップの歴史があります。以来多くのバンドが排出されたけれど、ここ10年でThe WellingtonsのFor Friends In Far Awayに近づけたアルバムがあるかと言われれば難しい・・キラーフック、すばらしい歌詞、プロダクション。彼らはオーストラリア音楽の伝統に確実に何かをも残すだろう。.

Nick Carr (Non Zero Records)

RELATED RELEASES

FOR FANS OF
Fountains Of Wayne, Rentals, Ben Kweller, Weezer, Ben Folds, Elvis Costello, Dreamboy, Teenage Fanclub, BMX Bandits, Velvet Crush, Jelly FIsh, Totos, Ozma, Superdrag, Farrah, Rooney, Sloan




The Wellingtons JAPAN TOUR2008 ~Heading North For The Winter~ with totos

□9.11 (木) 下北沢Shelter
OPEN/START:18:30/19:00
Ticket :adv¥3,000/door3,500
w/
Pコード 298−669
Lコード 79891

□9.12(金) 大阪 CLAPPER
TONE FLAKES Vol.12
〜FLAKE RECORDS 2nd ANNIVERSARY SPECIAL DAY LIVE〜
OPEN/START:18:00/19:00
Ticket :adv¥3,000/door3,500
w/The Bryan
P-コード 298-405
L-コード 51890

□9/13(土) 福岡decadent DELUXE
ofiice Glasgow present
OPEN/START:18:00/18:30
Ticket :adv¥2,000/door¥2,500
w/Paraele Stripes, Holidays Of Seventeen

DJ
BOSS
MASHER
and more...


□9/14(日)広島club 4.14
SIDE AQCEL presents
《Calm Before The Storm Vol.7》
open 17:30 start 18:00
Ticket:adv¥2000/door¥2500
w/SIDE AQCEL
Lコード 69590



□9/15(祝) 名古屋 K・D JAPON
OPEN/START18:30/19:00
Ticket:adv¥2,800/door¥3,300
LIVE:The Wellingtons(From Australia) , totos ,Karesi ,and more.......
Lコード71381


□9/16(火) つくばPARKDINER
Pink-HOUSE presnets EVER POP SHOW Vol.36
open/start 18:30/19:00
Ticket: adv/¥1,800/door2,300
w/Pink-HOUSE, Siamese
Cats,Mary days story,and 1band
DJ : yossy206,kikuchosuke


□9/17(水)新潟CLUB JUNKBOX
COLOUR SCENE
open/start 20:00/21:30
Ticket :adv¥3,000/door3,500
DJ:HIROMI(PROVEN) / MAHO(FUNNYSWEET) / DAI(CLARITY)

※つくば、新潟公演にはtotosは出演致しません